Peach granite stone
Orange or peach stone is a type of granite stone that is very hard and resistant and at the same time has its own beauty. If you want to know more about this stone and its features, we suggest you read this article to the end!
Introduction of granite stone
How familiar are you with granite?
Granite is known as one of the internal igneous stones, which is widely used in the construction industry due to its resistance. This stone consists of various elements such as feldspar, some minerals and also mica.
Variety of granite colors
In fact, it is due to the dominance of each of these elements in its structure.
Introducing peach granite stone
As its name suggests, peach granite is peach, pink or orange. This stone has an orange background and on its surface there are white grains and medium grains. The beautiful and special color of this stone has made it known as peach granite.
Black seeds on the stone
Sometimes it is evenly scattered throughout the peach granite, which you don't need to be surprised to see. These black spots are called tubercles, which are only seen in weak peach granites. The presence of these stains affects the final price of your stone. Be sure to pay attention to this point when buying.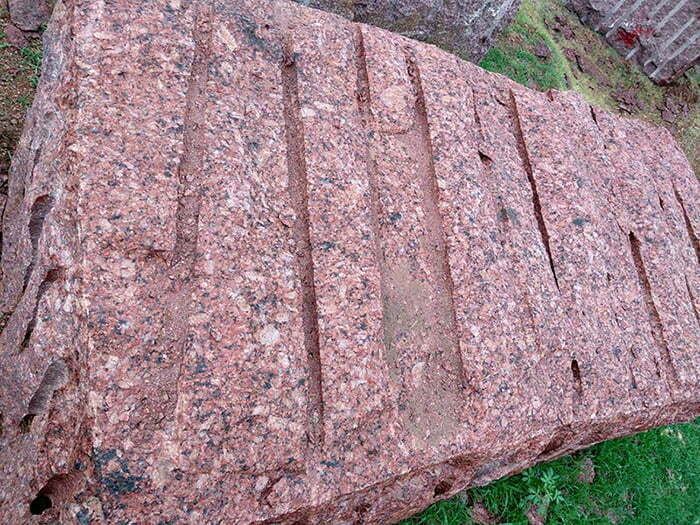 Types of peach granite
This stone is available in different dimensions in the market, but the suppliers usually cut peach granite in length, slab and tile in different dimensions.
In terms of quality, peach granite is classified into three categories: premium, first-class and poor. Obviously, its quality affects the final price.
Appearance characteristics of peach granite stone
You may hear this stone with other names such as orange or peach granite and sometimes pink, and this is because of the color of the stone, as mentioned. In sales, this stone can be offered in three forms: polished, cut and polished.
Characteristics of peach granite
The source of peach granite goes back to Razavi Khorasan province, east of Iran. This beautiful stone is extracted from the mines of Tayabad city; A city on the border of Iran and Afghanistan.
Characteristics of peach granite
Among the features of this hard granite stone, the following can be mentioned:
Anti-scratch
High compressive and abrasion resistance
 High flexibility
Little water absorption
Low porosity
 overweight
Applications of peach granite
Tayabad granite is mostly used in the following cases:
Paving the interior and exterior of buildings
Elevator floor stone
Exterior and main view of buildings
Staircase body and stepping stones
Parking floor and walls
Yard
parks
stone table
This stone, as you can see in the list above, is used both in the interior and exterior of the building and it is used in both spaces.
In the following, we will introduce you to the benefits of peach stone. So stay with us until the end.
---
Contact us for purchase, production order or consultation before
purchase.
Sales :   +985138801421
 Mobile : +989360453155
---
Advantages of peach granite
These days, peach granite stone has become one of the main options for construction; because it is a beautiful stone and at the same time strong and resistant! This stone is considered a resistant stone with very low porosity and can withstand high weight well.
Peach granite in appearance
The burnishing element of this stone is very good and its surface is also sub-glossy; As mentioned earlier, this stone can be supplied in polished, cut and polished form. One of the most important features of this stone is its low water absorption, which makes it possible to use it outside.
The price of peach granite
This stone has a very different price range and the reason is clear; Different and important parameters in determining the price! Some of these parameters are:
Dimensions and thickness
Processing quality
Sort and age
Sub and cut quality
Don't forget that the cleaner the surface of this stone is, the more valuable it is.
To get the price and more information about all kinds of building stones, including Tayabad granite, contact our consultants.
Similar names
You may also see this stone with the same names as Osun granite and Tayabad in stores.
Quality and durability
The hardness and uniformity of granite is higher than limestone. The more uniform and finer the peach granite grains are, the higher the quality and durability. This stone has the ability to be polished up to the mirror stage, and this has made it widely used in construction.
Peach granite is one of the most resistant stones after diamonds, precious stones and sapphires. It is also more resistant than other building stones such as travertine and marble. Buildings that use peach granite are of high value.
It is interesting to know
Granite is degradable, so it can be recycled after using it for a long time.
Extraction
There are several methods for extracting decorative stones, which are chosen according to the type of stone and the location of the quarry. Also, among the factors that are influential in determining the type of extraction method, there are things such as: the ability to export, whether the method is in Iran and less He mentioned damaging the reserves.
Extraction methods
Extraction with parallel pit::
Holes are created in parallel around the granite stone and stone blocks are extracted from these holes, this method of extraction is considered one of the old methods.
Extraction with a stone machine:
This method is used for stones that are not very hard and their cutting is almost easy. In this method, they use machines called stone crushers for separation and extraction.
Hydro mechanical extraction:
Hydraulic devices create grooves in the stone by using high pressure water flow and thus cut the stone.
Thermal extraction:
This extraction method is the least used in stone extraction due to the high cost of fossil fuels, and these fuels are used to burn stones.
Quarrying with steel cutting wire or diamond wire:
The best way to extract decorative stones such as granite is to use steel wire or diamond wire. In these two methods, holes are created on the surface of the stone blocks and the machine starts to move using a diamond wire, and the stone is placed on the rail and extracted.
Extraction with the help of chemicals:
In this method, parallel holes are dug around the stone and then chemicals mixed with water are discharged into these holes, these materials increase in volume and rise in the dug holes and with the pressure on the wall inserts stones and cuts stones
---
Contact us for purchase, production order or consultation before
purchase.
Sale :   +985138801421
Mobile : +989360453155
---
Tips for choosing an extraction method
When choosing the extraction method of peach granite, you should pay attention to the
following points.
Being the method in Iran
Its technological availability in Iran
Export capability
Less damaging to reservoirs